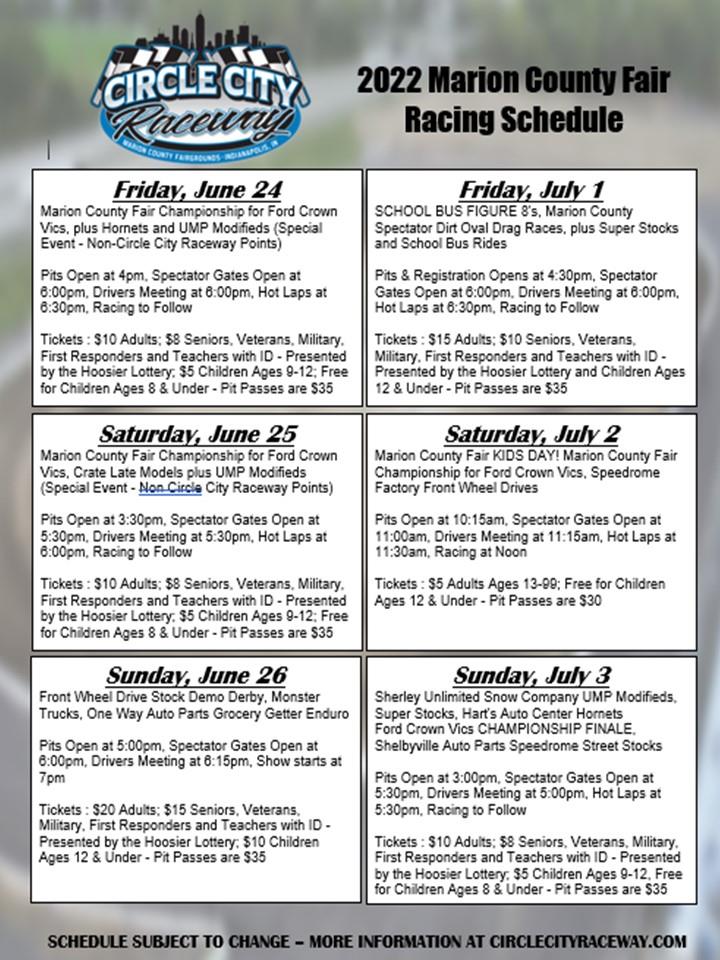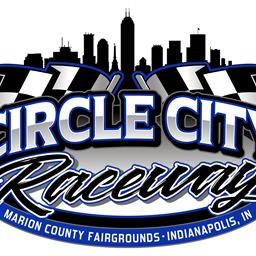 6/13/2022
Circle City Raceway
---
2022 MARION COUNTY FAIR RACING SCHEDULE FEATURES SOMETHING FOR EVERYONE
Indianapolis, Indiana - One of the country's most diverse county fair racing schedules was released by Circle City Raceway officials for the upcoming 2022 Marion County Fair June 24 through July 3, 2022.
Highlights of the six nights of racing begin with the first weekend on Sunday night, June 26, when Circle City Raceway hosts a fun evening of Monster Trucks, a Front Wheel Drive Demo Derby, and the inaugural One Way Auto Parts Grocery Getter Enduro event.
The next highlight showcases another historic first at Circle City Raceway, when the track hosts a wild School Bus Figure 8 race to go along with Marion County Fair Spectator Drags and School Bus Rides.
Action begins on Friday evening June 24 with the kick off to the 2022 Marion County Fair Ford Crown Vic Championship, along side Hornets and a special non-Circle City Raceway points race for the UMP Modifieds, which also will run another non-points race the next night along with the Fords and the second visit of dirt crate late models on Saturday, June 25.
A special matinee edition of racing happens on Saturday July 2, as Marion County Fair hosts KIDS DAY, and a visit from the facility's sister track and the Speedrome Factory Front Wheel Drive division gets a fun day/night double header of racing, first at Circle City and then that night at the Indianapolis Speedrome.
Sunday July 3rd features our FAIR FINALE, and the return of the Sherley Unlimited Snow Company UMP Modifieds, plus Super Stocks, a points race for the Hart's Auto Center Hornets, the Champion of the Fair Ford Crown Vics will be crowned, and then a special running of the Speedrome's Shelbyville Auto Parts Street Stocks running around the quarter mile dirt track.
For more information on pricing, times and more, please reference the flyer above, or check out www.circlecityraceway.com/schedule.
Circle City Raceway looks forward to seeing everybody #INtheDirt!
---
Submitted By: Jonathan Byrd
Back to News